Wednesday, November 30, 2005
Bottles No More
We started the transition from bottle to cup a couple days ago. Oh boy it's been rough. The armadillo was extremely annoyed the first couple of times we gave him his milk in a sippy cup instead of his usual bottle. He cried and screamed … threw the cup down … it was horrible. It was an episode of frustrated dramatics and tantrums. I hated to see him like that but B-Dad said we have to be firm. He was right.
Well it's been a couple of days now and it's getting better. The armadillo is not drinking his milk as fast as he used to but he's slowly getting used to the idea of not having his bottle anymore. We've been giving him his milk with his meals and as a result he's been eating more food. So instead of having his bottle as a "meal", it's a part of his meal. His milk intake is still not the same as with his bottle, taking in less amounts for now, but he's sure increased his food ingestion. We're supplementing his milk intake with cereal with milk in the morning and cheese snacks in the evening currently. I bet he would love to have ice cream as a supplement … I know I would!
Tuesday, November 29, 2005
Don't mess with this kid!
Bling Bling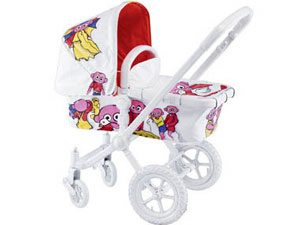 Are you ready for the new high design life for kids these days? It's gonna cost you and that's no lie. Some of the products that are available for kids are ridiculously expensive. Take the
Bugaboo stroller
for example to the right. Don't get me wrong I think they're great looking strollers, but every one has the Frog model, so parents feel they need to one up each other with this special edition by Dutch fashion designer Bas Kosters. This model sells roughly for $2,000. No joke! Does it change the baby? Feed the baby? Soothe the baby to sleep? If it did I'd try my hardest to convince B-Dad to get one for us.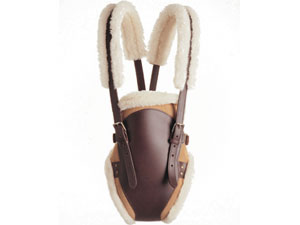 How about this Papoose Baby Carrier? It sells for $450. Sigh, yes $450. We all know that those of us that buy these things are not really doing it for the children. It's all about us right? I believe my armadillo is just as comfortable in a $10 pair of jeans as he would be if I bought him a $250 pair. Plus I'd have some explaining to do if I really bought one … which I didn't! According to an article on
Money CNN
, the market for upscale for baby products is $45 billion a year. Wow!
I do have to be honest in saying that if we were billionaires or even millionaires, I wouldn't buy these high end products. I'd much rather put that money away for the armadillo's education and our retirement. But being a millionaire, I could afford that
Petunia Pickle Bottom diaper bag
I've always wanted!
Monday, November 28, 2005
Scrooge
It happened again. But I'm not sure if it's worse than the previous or not. Well I guess it wasn't so bad because no one was hurt and damage was not as extensive. BUT the jerk drove off … it was a damn hit & run! Excuse my language. We were all going to the mall yesterday to pick up lunch and this idiot rear ended us from behind while we were stopped at a 4 way intersection. B-Dad got out of the car and told the guy to pull into the parking lot around the car. As B-Dad made the turn the guy went straight! Oh we were livid!
Unfortunately we couldn't find the guy and neither could mall security. The mall's Traffic control group was right there at the intersection and saw the guy drive off. Regrettably no one got a license plate so it will be difficult to find the guy. We did file a police report but since neither of us could 100% positively identify the guy we doubt the police would take it that seriously. But it would be nice if he was caught. There's some damage to the bumper. A brand new car too ... just thinking about it makes me furious! The armadillo is not even 2 yet and he's already been rear ended twice. Poor guy.
... Yeah, Happy Holidays to you too jerk.
Saturday, November 26, 2005
Black Friday and Horses
Instead of braving the crowds at the malls or the big retail stores on Black Friday, we did the next best thing. We all went to the racetrack! The armadillo adores horses and we thought it would be a good idea to see some horse racing. It was a win win situation. The armadillo got to see the horses and we got to do a little gambling.
It was so delightful to see the armadillo's reaction to seeing the horses up close. He wanted to touch the horses, give them hugs. It was so endearing. B-Dad took him down to where the horses saddle up and the armadillo even got upset when B-Dad started to leave the area. The armadillo wanted to stay and watch the horses. He loved watching the horses run by in the races. It was so much fun to see his reaction.
Unfortunately we didn't win any big jackpots but we had fun. We ate hot dogs and ice cream. Boy did the armadillo eat ice cream. B-Dad and the armadillo shared a waffle cone and he loved eating the waffle cone. I must have been starving because I had a hot dog and potato chips, and part of the armadillo's hot dog. Wow, potato chips never tasted so good.
Thursday, November 24, 2005
Our Wishlists
Family!! ~
Here's our wishlists for this year … Please note that we reserve the right to add to these lists at any time!
Armadillo:

- Toys 'R Us gift cards [what else?]
- Gymboree Play 'n Music gift certificate [not the retail store]
B-Dad:
- Best Buy Gift card [let me know if you want me to pick it up on this end]
-
* If you do buy shirts, please make sure they are XXL

- Stargate SG-1 Seasons 4 and up DVD sets


Me:

- Target gift card
- Magazine subscriptions –
Cookie
,
Child
,
Lucky
-
Petunia Pickle Bottom diaper bag in chocolate brown
- Cash always works
**Can you believe it B-Dad says no more Crazy Shirts?! It's true. He's growing out of that phase.
Where are your wishlists???
Wednesday, November 23, 2005
Merry Christmas ... Here's Your Ultrasound Machine
Will someone buy me this for Christmas? ....
Cruise Buys Sonogram Machine for Katie
Sleep ... Who Needs Sleep?
I had my doctor's appointment today. All went well. The baby is doing fine and thankfully I passed the gestational diabetes test. Whew! I'm glad I don't have to do the 4 hour test. I couldn't imagine sitting in that lab waiting … waiting … and waiting for 4 hours. That would be a serious annoyance. But thankfully I don't have to worry about it.

Last night the armadillo had a rough night. I don't know if he had a nightmare or he was bothered by his teething but he wouldn't go back to sleep. He went to sleep a little after 9pm and woke up almost screaming at around 11:10pm. After that he refused to go back in his crib. We gave him some Tylenol not sure if he was in pain from teething or not. We read to him again, but as soon as I got up he started crying. He just knew it was time to go to bed. B-Dad ended up sleeping with the armadillo in his room on the floor. Thank you B-Dad. But today first thing in the morning, B-Dad stated that we were going to Target to pick up an Aero Bed. His body was killing him from sleeping on the floor. B-Dad mentioned that he was going after work but I was like "hey!" I want to go too. So we'll probably go later today.

We need some bins from Target as well. I'm thinking we should split up the armadillo's toys in to batches. One, to make more room in the play area, and two, so he doesn't grow bored of his toys. He's got so many toys it looked like Toys 'R Us exploded in our living room.

Tomorrow is Thanksgiving. We're going over to Gigi's place. Hopefully the night will end early. Normally these dinners run late but I believe that B-Dad and his brother asked their mom to start early and end early. It's an hour drive each way and I don't want the armadillo staying up too late. I can't wait to eat some pumpkin pie!

Have a fabulous Thanksgiving holiday!

Tuesday, November 22, 2005
Where's My Wishlists?
Lately the armadillo and I have been going to the park. With these trips increasing week to week, his bumps, bruises and scrapes have been raising in numbers as well. I guess it's to be expected with his ability to walk/run getting better by the day. Plus going to Gymboree every week has strengthen his climbing skills. The armadillo is now able to climb up the long ramp by himself and slide down by himself. What a pro! The armadillo's teacher at Gymboree has suggested that he move up to the next level. I knew that was coming. I just hate pulling him out of his current class into a new one. He has his buddies in this class, but I have to admit he does need to be bumped up one level. His skill level is definitely higher than most toddlers in this class.
I was thinking of also taking the armadillo to the music classes at Gymboree. I have checked out other places like
Music Together
and
East Bay Music Together
, but with my pregnancy it wouldn't be a good idea to sign up for the next session. I know that the armadillo would have to miss at least a few classes because of the baby. Gymboree doesn't have sessions per se so it would be an easier schedule to manage, but definitely not cheaper. We'll see I guess. I think I'll take the armadillo to preview a class next week.
Can you believe that I haven't bought a new diaper bag in months? I just thought I'd throw that out there.
Can you be addicted to reading magazines? I feel like I am. Any magazine having to do with babies, kids and fashion I have to read. I'm still on the fence if I should subscribe to any of them. I do have a subscription to Parents and Parenting. But I am looking at Lucky, Shop Etc., and the new mag
Cookie
. Hey that could be a great gift idea for me … hint hint family!
Family ~~ … where's my wishlists???? I have to say that if I don't get them soon, I'll have to buy what I think you'll like … or the gifts will be late. Just kidding. But please send me the lists soon.

Goodnight Sweet Pea
If you have a product you'd like to be featured or know of a fabulous product to review, please send me an
email
!
Monday, November 21, 2005
Boils
Today I had my first extremely severe annoyance with a mommy and her son. I know the saying "boys will be boys" or "they're only kids" but when you ask the boy nicely to stop throwing sand twice and he does it a third time, the gloves come off. Especially when the mother was right there!

The armadillo and I went to the park this morning and the armadillo wanted to go into the pretend house with the picnic table inside. Well there was a little boy, about 4 years old in there with a plastic bottle full of sand. As soon as the armadillo walked in he started shouting "No!" "No!" and shook the bottle of sand in the armadillo's direction. I asked the boy to not throw sand at my son and explained to him that there was plenty of room for the both of them in there. The boy did it again getting sand in the armadillo's hair. I was getting annoyed and looked at his mother. Nothing, she just sat there. Then the boy did it for the third time. With the mother just sitting there like a boil on a butt, combined with my hapai hormones, I raised my voice and said "Stop throwing sand at my son! I've asked you two times before to stop. Where is your mommy?!". At that point the boil stood up and said something to the boy. I took the armadillo out of the house and said so the boil could hear, "Let's go play somewhere else. Somewhere there are no naughty boys around." The poor armadillo had sand in his hair and on his clothes. Fortunately he didn't get sand in his eyes. I would have been livid if he did.

Why is it so hard for a mother to recognize bad behavior and correct it? I always try to correct the armadillo if he's throwing sand or not sharing nicely with other children. Another mommy saw this and said that boy has had problems with other kids too. That little boy and his boil of a butt mommy should wear a sign saying "We don't know how to play nicely in the park. Stay away from us."

Friday, November 18, 2005
Harry Potter is Here!
I am so excited that the movie is finally here! Hopefully B-Dad and I will have time so that we can see the movie this weekend. Of course we're going to have to split our showtimes so one of us can be with the armadillo. I saw on
Movies.com
that it got really good reviews. But regardless of what the reviews say I still want to see it. I don't remember the book too much but I suppose that is a good thing. That way I'll be surprised and won't know how the movie is supposed to end. Those kids that play the main characters have grown up so much. From the Sorcer's Stone to this one you can see the difference. That Harry Potter is becoming a little hottie!
* Do you agree cousin E? *
If you do go to see the movie let us know what you think!
Thursday, November 17, 2005
Moms Meetup
Have you heard of this website,
Black Friday 2005
? It's a website that has listed what will be going on sale on the biggest shopping day of the year, the day after Thanksgiving. I'm not one personally to wake up at 4am to get to these stores, but if you are, check out the
site
and their list of stores.
Today the armadillo and I met a wonder group of other mommies and their children for a playdate. We all met up at a local park and the armadillo had a blast. We are all part of an
online group of moms
who live within 10 miles [I'm guessing] of each other. It was great to finally get the group together and a big thanks to the women who organized the event.
We were at the park for almost 2 hours, the longest we've ever been at a park. The armadillo kept busy playing in the sand, taking other children's toys, climbing on the playground structures, sitting in the swing, eating banana bread and raisins, etc … He was full of activity. He did take a tumble and now has a boo boo on his head. Poor armadillo. He was giving one of the little girls a hug and seemed to have lost their balance as they both tripped up on each other and fell down. I didn't notice his owie till a little later as it bled a little. But after a few minutes he recovered and was back to playing and pushing someone's stroller. Boy did he have an obsession with that stroller. I think out of all the toys he played with that didn't belong to him [ha ha], he liked the stroller the best.
The armadillo met a lot of adorable kids at the park. What was funny was that from the playgroup the armadillo was the only boy. Lucky armadillo! We also did meet a couple other mommies and little ones earlier who were very pleasant as well. We also did meet a daddy which was a rare occurrence. I was talking to another mommy while our sons were in the swing. The armadillo must have been in the swing for about 15 minutes straight. That was the longest he's ever been in the swing at one time. I think the armadillo was too fixated staring at the boy next to him to pay attention how long he was in there.
I also did meet a couple of other mommies who were hapai as well. Their kids will be about the same age difference as the armadillo and the hormone. We were discussing if it would be harder being close in age or easier. Opinions differed especially on what we've been told from other parents who have more than one child. I guess I'll just have to wait and see.
I think the meetup group is planning another get together for the week after Thanksgiving. That will be fun as I enjoy taking the armadillo to the park. As well as I get to have some adult conversation as well. I'm looking forward to the next one!
Wednesday, November 16, 2005
Yes That's a Pumpkin in My Belly
I think I'm getting better as a mom to a little toddler boy. I'm beginning to build up my immunity to sand, dirt, scrapes, bruises, and other things a little boy can conjure up. Sand in your shoes? Sand in your hair? Sand in your mouth? No problem, I am able to remain calm and not panic running with an anti-bacterial wipes in tow. It's taken me a couple of months and numerous trips to the park to accept the fact that it's sand and he's going to do something with it eventually. I watch the other moms there with kids older than the armadillo and they get into the sand much more than my armadillo does. I'm assuming that it will get worse as he gets older. There are some kids that lie in the sand. Hair and head on the sand … collecting who knows what to bring home with them. Heaven forbid the armadillo does that! I'm not on that level yet.
Do I look fat? Wait … don't answer that … I don't want to know. What are you supposed to look like in order for people to identify that you are hapai? Today at the park this woman was talking to me about her son, who is around 3 ½ years old and my armadillo. She was telling me about the different age stages and what ages are easier than others. She then asked me if I was going to have more children. Um hello? I'm into my 3rd trimester and she's asking me if I'm going to have more kids? What did she think I had under my shirt … a pumpkin I was saving for next Halloween?! It was so bizarre because another mother at the playground asked me earlier when I was due. The strange thing was is that the 2nd mother, the one who didn't have a clue was pregnant herself. Go figure.
Tuesday, November 15, 2005
"Yes!"
Yesterday I had to take the gestational diabetes test. Ugh, I hate drinking that stuff. It's pure carbonated sugar in what they labeled as orange flavor. I kept burping because it's so carbonated. Of course after the required hour sitting in the lab was over, I hit my sugar low. I felt so tired. I just wanted to sleep right there. I'm hoping that the results will be good. I just can't imagine going back for another test which I believe they make you stay there for four hours rather than the one … I think.

I can't believe this weather. It's the middle of November and we have temperatures in the high 70's here. That's so unusual. Normally it's much cooler than that. But I'm not complaining the weather could be worse. It could be 45 degrees and raining.

My tummy is so full. I just about finished a peanut butter cookie that a local bakery here bakes and sells. This cookie is so delicious! The armadillo and I have gone to this bakery 3 days in a row hoping they have this cookie available. They did today and I was so tempted to buy what was left, but I didn't. I bought a reasonable amount, um, four cookies. One for the armadillo [he loves them too], one for B-Dad and um, two for me. Yes, two for me … hey I'm hapai … the baby wants some too!

We renewed the armadillo's Gymboree Play 'n Music membership. We used the gift certificate Aunty H's family gave … thank you! I'm thinking of signing up for more classes for the armadillo. Maybe music or art … though music would be less messy. I think we'll try a class and see if he likes it.

I love that the armadillo knows how to say the word "yes". It's the most adorable thing when you ask him a question and he answers "yes". Though he may not always understand what you are asking him.

"Do you want to drink milk?" … "Yes!"

"Do you want to go nene?" ... "Yes!"

"Are you the most beautiful baby in the world?" … "Yes!"

"Do you want Pappy to clean your poopy diaper from now on?" … "Yes!"

"Do you want eat your poopy diaper?" … "Yes!"

Monday, November 14, 2005
Afternoon Delight ... Not
I hope this is not going to become a habit. Yesterday afternoon the armadillo flat out refused to take his afternoon nap. He didn't want to be in his crib and cried to be taken out. After a while we took him out and decided to go to the bookstore. He slept great later that night.

Today he took his morning nap fine. But as I put him down for his afternoon nap, a couple minutes later he started crying as if he wanted out. I had him cry for a few minutes then went in and laid him down again. As soon as I went through the motions to lay him down he started crying again. After a few minutes the crying got so hysterical he started to do the "hyperventilating" cry. You know the one, where they sound as if they are trying to catch their breath. I didn't understand what was wrong. He just had his milk about 20 minutes ago and I just changed his diaper. After about 5 minutes of crying I went in. Poor thing was doing his hyperventilating crying and it took a good 10 minutes to settle him down. I was not sure if he just didn't want to take a nap or if he was in physical pain. There was no fever and I couldn't see anything physically wrong. So I brought him in the bedroom to see if he would relax there. Well after 20 minutes of me trying to get him to settle down, I put him back in his crib. I didn't think there was any way he would fall asleep in my bedroom especially with the dogs in the room.

Back in his room, soon as I kissed his face and picked him up to put him in his crib he started to bawl again. He had 2 Hunters with him and I couldn't get one away so I left the room. The armadillo as expected started to howl as soon as I left. I let it go on for about 5 minutes and was close to getting him again. I didn't want him to hyperventilate and spit up, but fortunately he stopped and was lying down. It's been about 30 minutes since I put him in the crib and about 20 minutes since he calmed down. I'm crossing my fingers and toes that he's sleeping and will get a good nap. It appears that he's sleeping from what I see on the video monitor so that's a good sign. The only thing that prevents me from being 100% convinced he's sleeping is that he is vigorously sucking on his pacifier. And before you hassle me that he's still using his pacifier, he only uses it when he sleeps. Getting back to the main subject, I just hope that he has finally relaxed enough to nap. 3 minutes have now passed and so far so good. My fingers and toes are still crossed.

Friday, November 11, 2005
Holidays are Approaching
We made the rounds to another park today and boy it was cold this morning. It's a good thing that I dressed the armadillo warmly. I should have took a picture. He looked so hip and trendy. The armadillo wore an orange hoodie, brown pants, and a olive green quilted vest. So adorable! He looked like such a little boy. Little by little my baby boy is disappearing every day. There were playground equipment that were not at the other parks we've been to. There was a little slide with a batch of small stairs not too far off. The armadillo was able to climb up the stairs and go down the slide by himself. He was so excited going down the slide. I had to help him sit down on the slide otherwise he'd be going down head first all the time. The armadillo found a mold of a starfish that you would use to play in the sand. He made himself laugh everytime he picked up a bunch of sand and put it in the mold. Of course he was sitting in the sand and managed to get sand all over his clothes and his hair. Thank goodness he's getting a bath tonight. It was arduous for me to just stand there and watch him get sand all over him. But I'm trying to get myself used to my son getting himself dirty. The armadillo also got grimy when he was putting his hand in the water that was running down from a fountain. The armadillo would lie on the wall, that was incidentally covered with sand, and put his hand in the water. He managed to get water on the wall which he then lied on everytime he wanted to touch the water again. Sand and water covered the front of his vest and on his sleeves. Another good thing I'm doing a load of his laundry today.

We went to Target today [of course]. I had a particularly good time browsing their Christmas decorations section. Target had a plethora of decorations, trees, ornaments, gift wrapping, etc .. It got me in the holiday mood. It's a good thing I was pushing the armadillo in the stroller, not a cart. Otherwise the cart would be full of Christmas items. Hopefully B-Dad will put up the "fake" tree we have and we can decorate it with those lovely ornaments I will eventually buy at Target. Ha ha … Every time I see Christmas adornments in the stores my first thought was that it was so early. But then again, it's only about 6 weeks till it's Christmas. I need to get my shopping done.

To My Beloved Family:

Please email me your Christmas wishlist sooner rather than later. This way I can get started earlier and hope to have your omiyage's with you on Christmas day. Otherwise I'll just choose what I think you all will like! For example, Grandpa, I saw a lovely Dallas Cowboys hat that I think you will enjoy. Just kidding!

I'll also reciprocate with our wishlists soon. I bet you can't wait for that!

Thursday, November 10, 2005
Second Child Syndrome
I ordered more hapai tees for myself. How exciting to have these tees in my wardrobe. It's amusing to wear them and have people compliment you on the designs. It's a shame that you can only wear them when you're hapai. It would be a little bizarre I guess to wear a tee that says "Prego" when you're not. I'm still on the lookout for more hip and trendy hapai wear, so if you know of any, drop me an email!
I took the armadillo to the park again. This one was a different park, closer to B-Dad's office. He had fun as usual. There was this little girl, about a year older than the armadillo that the armadillo was following around. It was a lovable sight to see. The armadillo would go up to the girl and start "talking" to her and pointing to things on the playground. She even followed him at one point to a location the armadillo was "talking" about. Of course the little girl's mother and myself had no idea what they were "conversing" about and laughed. It was a delightful sight.
There was also this boy who is a month older than the armadillo. He was busy climbing on all of the playground equipment. I was thoroughly impressed and slightly embarrassed at the same time. I started thinking that maybe I was being too overprotective of the armadillo exploring on his own. I have let him climb on structures on his own, but I "spot" him every way. I just don't want him to fall and hurt himself. But I know he will eventually but I hope he doesn't hurt himself too bad. But the armadillo is improving on his climbing skills. He was able to climb up a structure by himself and go down the slide on his own. He was so happy with himself and so full of pride. But with the other child, he was not the firstborn since he was playing with his older brother, so I throw some weight to the "second child" syndrome, as my sister-in-law calls it. It's where you relax a bit in areas where you normally would have worried like you did with your first child. I wonder if I'm going to have that in me. Odds are that I will as I just can't see having the time to coddle a toddler and an infant at the same time. Lucky me!
Wednesday, November 09, 2005
There's an Armadillo in the Park
I'm really starting to enjoy taking the armadillo to the park. It gives him such fantastic exposure to the outdoors, other children, and encourages his physical abilities to grow. We went to the park for about an hour today. The armadillo is getting so adventurous when playing on the playground structures. He's able to climb up some structures and come back down all by himself. Of course I'm there spotting him all the way. He's starting to enjoy sitting and playing with the sand. Lucky me. I just cringe inside seeing him run his hands through the dirty sand, but oh well, he's having fun and that's just fabulous. The armadillo spent about 10 minutes watching the geese that frequent that area of the park. He was so in awe. We were watching them eat and having discussions about their day, I'm assuming. There was one little girl who decided to walk in the middle of the flock and chase a particular goose around. Excuse me but I would never let the armadillo do that. Not only do I not want the armadillo to bother the geese, but I'm afraid that they might want to attack him in defense. Poor geese, with all the children running around I'm surprised they come around.

Another great reason why taking the armadillo to the park is for the exercise. It wears him out physically so when we go to do errands later, he's not as fussy to get out of the stroller. Whew.

The Sequoia is at the Service department getting our rearview camera and wood paneling installed. Hopefully it won't take very long. I'm driving B-Dad's car and B-Dad is driving a loaner car. His loaner car is a Rav4. I find it funny that he's driving that small car. He's not too excited about it. Going from a G35X to a Rav4 is a big difference. With any luck it will only take a couple of days to have the work done and I can have my car back, as well as B-Dad getting to drive his sporty car again.

Last night we had Indian food from a place called The Curry House. Blech … I give it 2 stars. It's not as good as other places. How disappointing. I also went to a local bakery and picked up a couple of cookies. One chocolate chip and one peanut butter for both B-Dad and I to share. It's too bad that the armadillo saw us eating the cookies. Boy the armadillo ended up eating almost ½ of the peanut butter cookie. It's a bummer because I really liked that peanut butter cookie and I don't usually eat peanut butter cookies. Oh well, that just means another trip to the bakery!

Tuesday, November 08, 2005
Coffee and Wishlists
I'm craving a cup of coffee. It seems everywhere I look someone is holding a cup of coffee and I start to drool. I don't know what it is, but the smell of coffee drives me nuts. Of course I drink a cup of decaf now and then, but even now when I'm sitting on my bed typing this I'm craving a cup of coffee. It could be that I'm watching a show and one of the characters is drinking a cup of coffee. It's funny that when you're hapai, the mere mention or picture of a particular food or drink will set off the cravings. Most times fortunately for me the cravings go away as soon as they come.

I can't believe that it's November already. I was thinking how early the stores are in putting up their Christmas decorations, but then I remembered that it's a little over 6 weeks till the holidays. Damn, time sure does fly when you get older. I'd better get started on my gift lists soon.

* Cousin E ~ What are you reading now? Are you excited about the new Harry Potter film? I am! I'm planning on seeing it during the opening weekend. Uncle B and I are going to take turns. Too bad the armadillo is still too young to enjoy the Harry Potter stories. Plus this latest film looks more for older children than the younger ones.

** Cousins E & W ~ What's on your Christmas wish list???? Please send me an email with your suggestions. I guess I could include the rest of the family as well … ha ha. Please send me an email with your wish, remember I say wish list. … How was your Halloween? Where are the pictures of you two in your costumes??? Mama H … pictures???

Monday, November 07, 2005
Reno
The armadillo, B-Dad and I drove over to Reno this past weekend to meet the grandparent units. I was excited to see my parents again, not to mention have a chance to do some legalized gambling. In case you didn't know, I'm a HUGE fan of gambling. B-Dad and I love playing in the casinos. I'm more of a roulette player than anything. I know it's more luck than skill, but I'm hooked on the possibility of that little white ball falling in my favorite numbers slots. It's so addicting! My preferred numbers are 19, 20, 5, and 25. I throw in other numbers here and there, but I always play those 4 numbers. Oh I also split the 0's as well. You never know. I almost never play the outside bets, you know red/black, 1st 12, etc … I also play Let It Ride as well. I got a straight as my highest payoff on this trip. It's not a Royal Flush, but it's better than nothing. I almost never play the slots. My money goes by way too fast and I'm not into pressing a button to spin the wheel every second.

We all stayed at the El Dorado Hotel. B-Dad and I usually are pretty loyal to Harrah's but there is an obnoxiously earsplitting train that goes by the hotel at night tooting its horn. Last time we were there it woke up B-Dad and the armadillo. Not fun. It turns out you can still hear the train at the El Dorado but it's not so noisy. We requested a crib for the armadillo but it was too small and the armadillo wasn't having any of it. Both nights he slept on the bed with me because he couldn't get comfortable in the crib. Though the second night was a little better since B-Dad was able to at least get him to fall asleep in the crib. But later that night the armadillo must have turned and hit himself on the metal railings and woke up. It was endearing at times when he slept next to me. But I could do without the moving and kicking throughout the night. However he is so adorable when he sleeps.

The drive going up was reasonable all in all. The weather wasn't bad, but the armadillo did not want to be in the car. He only slept for about 45 minutes and was fussy for almost 90% of the way. What a drive. Nevertheless we arrived in Reno about 4 hours later, not bad.

We had a good time with the grandparents. They were there in Reno to see the UH vs Nevada football game. Then they would go to San Francisco to see the 49ers play. I'm delighted that we all got to spend time together. The grandparents were kind enough to watch the armadillo for a bit so that B-Dad and I could go gamble. They took the armadillo to Circus Circus to watch the entertainment and play games. He was joyfully distracted and didn't appear to miss B-Dad and I. That was a relief for me.

The grandparents are flying home tonight. How disappointing. I wish they could stay for a couple weeks. I know the armadillo would love that. I don't think we'll see them till sometime next year. Hopefully that time will come soon. But I know it won't be soon enough for me.

We're Back
We're back! We spent a wonderful weekend in Reno spending time with the grandparents. I'll update with more later today.

Wednesday, November 02, 2005
No Snow Please
The weather is gray and cold … just the way I like it if I don't have to go outside. Since the change in daylight savings time, it gets darker earlier. That's the part I hate. I don't mind the extra hour during the "Fall Back" stage of course. But it's depressing when you need to turn the lights on in the house when it's only 5:00pm. It's like your day gets shorter during this time of the year. Well I guess it kind of does get shorter when it's not as late as it feels.

B-Dad and I are watching the weather report to make sure that there is no snow storm heading to the Sierras. We're planning a trip to Reno to meet the grandparent units. Last time B-Dad and I went to Reno our trip took 8 hours. Normally it would take around 4 hours, barring any traffic and weather problems. So far the forecast is for possible showers in the afternoon. That's not too bad. But being hapai the need for a bathroom break comes more frequently than if I wasn't. Plus we will have the armadillo with us in the car so that should make our trip extra special. We have a DVD player in the car and I'm hoping that I can watch something while wearing those Sea-Bands. I hope B-Dad doesn't mind if I watch a show while he drives. I'm also optimistic that the armadillo will sleep for at least a couple of hours during the drive. I'm going to withhold that afternoon nap and hopefully the morning nap as well. Poor armadillo will be so cranky during the day … lucky me!

It's almost 5:00pm … time for the eternal question of the day … what's for dinner?

Tuesday, November 01, 2005
Due and Sprout
Another terrific collection of cool belly wear is from
Due and Sprout
.
Due and Sprout
offers hip maternity tanks and tees. The founders of Due and Sprout creates apparel that answers the never ending questions that a pregnant woman comes across all throughout those 9 months. The tees come in a perfectly fitted shape and are made out of the softest knit cotton. They also make super baby shower gifts for mommies-to-be.
My favorite designs are the "Foot Tush Head" design and the "Yes I'm Pregnant" tee. I'm looking to order those two designs, especially the "Yes I'm Pregnant" so I can stop answering that question.
Visit
Due and Sprout
to view more of their maternity collection and where to shop.